Artistic sheep flock to the Greenway

Gordon North appointed as new Greenway Warden

Countryside Agency pay fact finding visit to 'model' Greenway

Wire attack shocks Spen Valley - important message to Greenway users

New Greenway Warden on the Horizon

Swaledale Sheep Sculpture gets thumbs up

Artists make a good impression for public display

Safe route to school gets go ahead

Artists visit Greenway to plan for summer Sculpture projects

Public art programme for the Spen Valley Greenway

Greenway litter not taken seriously

Greenway movement gathers momentum

Grant for more art and sculpture

16th March 2003 - Artistic Sheep Flock to the Greenway

A flock of sheep strayed onto the Spen Valley Greenway this week – but any sheepdogs attempting to round them up will be left sadly frustrated.

The 11 sheep have been sculpted from scrap metal and concreted into the ground near the Clayborn football fields between Liversedge and Cleckheaton – the first of a number of specially commissioned artworks to be installed along the seven-mile route. The whole project – Art and the Travelling Landscape – has been developed by Public Arts in partnership with the Greenway's owners, Sustrans, and is costing around £90,000.

Sculptor Sally Matthews, who has spent the last six months creating the sheep in her workshop in Wales, was on site on Monday to supervise the installation of her flock – to the amazement of passers-by. "I got my inspiration for them while walking on the Greenway," she explained. "This part of it is wonderful, with farmland on one side which has real sheep. I wanted to create something that gave the impression it was moving alongside you as you walked along the path, and sheep seemed the ideal subject."

The sheep have been created out of all sorts of scrap metal – rotavators, hooks and horse shoes – which have been welded together. "It's been the most difficult project I've done so far because there were so many sheep," said Sally, who previously sculpted four cows for a Sustrans project in the North East. "I'm really pleased to get them out of the workshop and on to the Greenway where I always wanted them to be. "I think the Greenway is a wonderful asset and I'm amazed how many people are using it. Sustrans has such a vision of what they want to achieve, which is great." Greenway warden Gordon North said: "They are something that people will come a long way to see and I'm sure the local population will take them to heart."

Sustrans' regional manager David Hall was delighted with the sheep and said more artworks would follow soon.
"I think we will get people coming to the Greenway because they want to see the art. They are great talking pieces and make it a memorable route. I think people will be delighted to have them." The rest of the artworks include a series of benches, signposts at each end of the Greenway and signs inspired by poetry. A large earthwork feature will be installed on the planned Ringway on Spen's other disused railway. The Art And The Travelling Landscape project will be celebrated with an official launch on June 6.


August 26th 2002 - Gordon North appointed as new Greenway Warden
The man charged with keeping a constant eye on the Spen Valley Greenway from now on is Gordon North. One of the pioneers in the Greenway's development, Gordon is the perfect choice to act as the routes new guardian. He will be employed by Sustrans on a part-time basis, assisted by volunteer Greenway Rangers. Gordon will start his new role by targeting hot spots for litter and dog fouling and then start a campaign to educate users, both old and new about taking more care of this fabulous asset. This is a significant development in the history of the Greenway. The fact that we now have a permanent presence on the Greenway is a massive step forward in protecting the future of this part of Route 66. The Ranger team can now begin to grow and work along side Gordon showing a strong visible presence. For more information about the new Warden's role or for more details about becoming a volunteer Ranger contact Gordon on (01924) 411307 or email us at rangers@spenvalleygreenway.com.

June 22nd 2002 - Countryside Agency pay fact finding visit to 'model' Greenway
A senior delegation from the Countryside Agency enjoyed a leisurely visit to the Greenway this week and were greatly impressed by what they had seen. Chairman Ewen Cameron said that the Spen Valley Greenway was a superb example of how to provide local people with a bit of countryside near to where they live. It provides an attractive off-road route for local journeys.

The Agency selected the Spen Valley Greenway as a model and will take back their findings and use them for plans for similar projects nationwide. To find out more about the work of the Countryside Agency in promoting Greenways visit www.quiet-roads.gov.uk

April 27th 2002 - Wire attack shocks Spen Valley - important message to Greenway users
The recent 'wire' attack on two cyclists in Heckmondwike this week has shocked people in the Spen Valley communities that are home to the Greenway. This violent and mindless act, by a minority of local residents who are bent on making this innovative resource fail, must be stopped before someone is seriously hurt. The attack involved a dangerous ambush with a wire being strung across the Greenway between two trees at head height for a cyclist. In order to put a stop to this and other violent and anti-social behaviour on the Greenway please read the following notice from the Spen Valley Greenway Rangers:
| | |
| --- | --- |
| | Please be vigilant at this time and look out for wire or any other material strung across the Greenway |
| | Do not be put off using the Greenway - this is what they want to happen |
| | This is an isolated incident but please be careful and alert |
| | It may be a good idea to slow down, as cycling at speed is not a good idea around busy spots between Cleckheaton and Heckmondwike. The slower you go the more chance you have of seeing anything suspicious |
| | If you do see anything suspicious then call the police on 0845 6060606 or 999 if you think it is an emergency. |
| | If you want to report an incident to the rangers you can e-mail rangers@spenvalleygreenway.com |
| | You can use our feedback form to leave a message as well |
| | If you feel strongly about this act then volunteer as a Ranger or offer some other help by reporting suspicious acts. |
| | Above all do not let this act put you or your family off from using this marvellous place. We must work together to protect it for future generations. |
April 22nd 2002 - New Greenway Warden on the Horizon
Once the local council elections are over and the new council leadership is in place in Kirklees there is every chance that the maintenance of the Greenway will pass to Sustrans, who will act as an agent for the Council and will look to employ a part-time Greenway Warden. The new warden will liaise with Kirklees, become well known by users, carry out routine maintenance and work with the volunteer ranger team to ensure that the Greenway is a pleasant safer environment for all. Watch this space for more news about this exiting new development.
April 22nd 2002 - Swaledale Sheep get thumbs up
A flock of Swaledale Sheep will greet visitors to the Greenway this summer along the edges of the path on open land near to Cornmill Lane, Liversedge. Made from metal the sheep will be complemented by other artworks, plans for which have still to be finalised (watch this space).
March 17th 2002 - Artists make a good impression for public display
An exhibition of the proposed artwork was shown at Cleckheaton Town Hall last Wednesday night with 80 local people turning up to check it out. A dozen artists, shortlisted from an initial 70, showcased their designs. Sustrans and Public Arts will now decide upon those which they will commission and the successful ones will be announced on this web site shortly. Some of the ideas included a flock of Swaledale sheep that you would cycle through and a Stitch in Time sculpture featuring a length of thread going through the eye of the needle.
March 16th 2002 - Safe route to school gets go ahead
Work could be completed on the first part of the so called 'Spen Valley Ringway' by the end of the year.The first stage will include a section from Royds park to the Lillibets pub in Liversedge. Once an agreement has been reached, the work will continue towards Cook Lane in Heckmondwike. The first stage of the development will benefit children from Littletown and Millbridge schools, and when the section to Cook Lane is agreed the benefit will expand to Holy Spirit and Heckmondwike Grammar School providing a safe route for a total of 2000 children.

February 4th 2002 - Artists visit Greenway to plan for summer Sculpture projects
Ten shortlisted artists visited the Greenway today to examine the potential sites for their Sculpture and Art works. Public Arts, the Wakefield based organisation chosen to oversee the Art project, together with Sustrans, shortlisted the 10 from over 70 artists seeking a Greenway commission. The artists will tour the Greenway looking at potential sites for a range of material, landscape, as well as functional sculpture such as a bench or a chair. Watch this space for more info about the designs and ideas that will become an everyday experience as you cycle or walk Route 66. See Greenway Art for more images.
Photo by Sarah Daniels Poem by Charles Smith
November 7th 2001 - Public art programme for the Spen Valley Greenway
Public Arts, an independent company based in Wakefield, today launched the first stage of commissioning art work and sculpture to add to the existing work by Jason Lane. Working in partnership with Open Art, Sarah Daniels a photographer and John Duffy a writer and poet, will be spending time on the Greenway working with local groups in order to provide inspiration for the artists who will eventually work on the projects. Sarah and John are asking for Greenway users' stories, experiences and relationships with the Greenway, past and present. if you want to tell them a story or pass on a comment you can email us at rangers@spenvalleygreenway.com and we will pass it to them. Watch this space for more info and a special page dedicated to the forthcoming art work. Web link www.public-arts.co.uk
October 17th 2001 - Greenway litter not taken seriously
The Spen Valley Greenway has been overlooked by Kirklees Council in favour of the new Huddersfield Narrow Canal. The canal has recently had litter bins installed along its route which are emptied regularly by Kirklees Cleansing Department.The odd thing is that litter is not a problem on the canal but on the Greenway there is an obvious need. Rangers, local people and some councillors have been arguing for almost 18 months for bins to be placed along the Greenway route, which is slowly becoming a litter louts paradise. If you want to see something done about litter then write or send an email to you local councillor. The more pressure that is put on the authority the more chance we have of some action. Someone has made a decision about the narrow canal - why can't a decision be made about the Greenway?
July 17th 2001 - 'Greenway' movement gathers momentum
The Spen Valley Greenway has pioneered a new movement. Other planned routes in the region, currently undergoing feasibility studies, are emulating the success of the Spen Valley Greenway by adopting the 'Greenway' philosophy. The Fenay Greenway , running between Deighton and Kirkburton and the Calder Greenway running from Ravensthorpe to Huddersfield will form part of a wider 'Greenway' network.
The Fenay Greenway Society are campaigning for a traffic free route to run parallel to Fenay Beck, with Fenay Bridge at its centre. Kirklees Council has already identified the route in its Unitary Development Plan and Highways have included the route in their Local Transport Plan.

For more information about the Fenay Greenway contact David Whiting, 50 Dartmouth Avenue, Huddersfield, HD5 8UP
July 2nd 2001 - More metal art work to adorn Greenway
A recent Yorkshire Arts grant of £39,000 will see the new stretches of Greenway filled with art and sculpture. The metal sculptures by Jason Lane on the Heckmondwike to Cleckheaton part of the route will be complimented by new art work towards Dewsbury and Low Moor. Sustrans will commission several artists to create a series of permanent artwork, including sculptured seats. The artists will also involve local people to create a "distincitive and memorable landscape".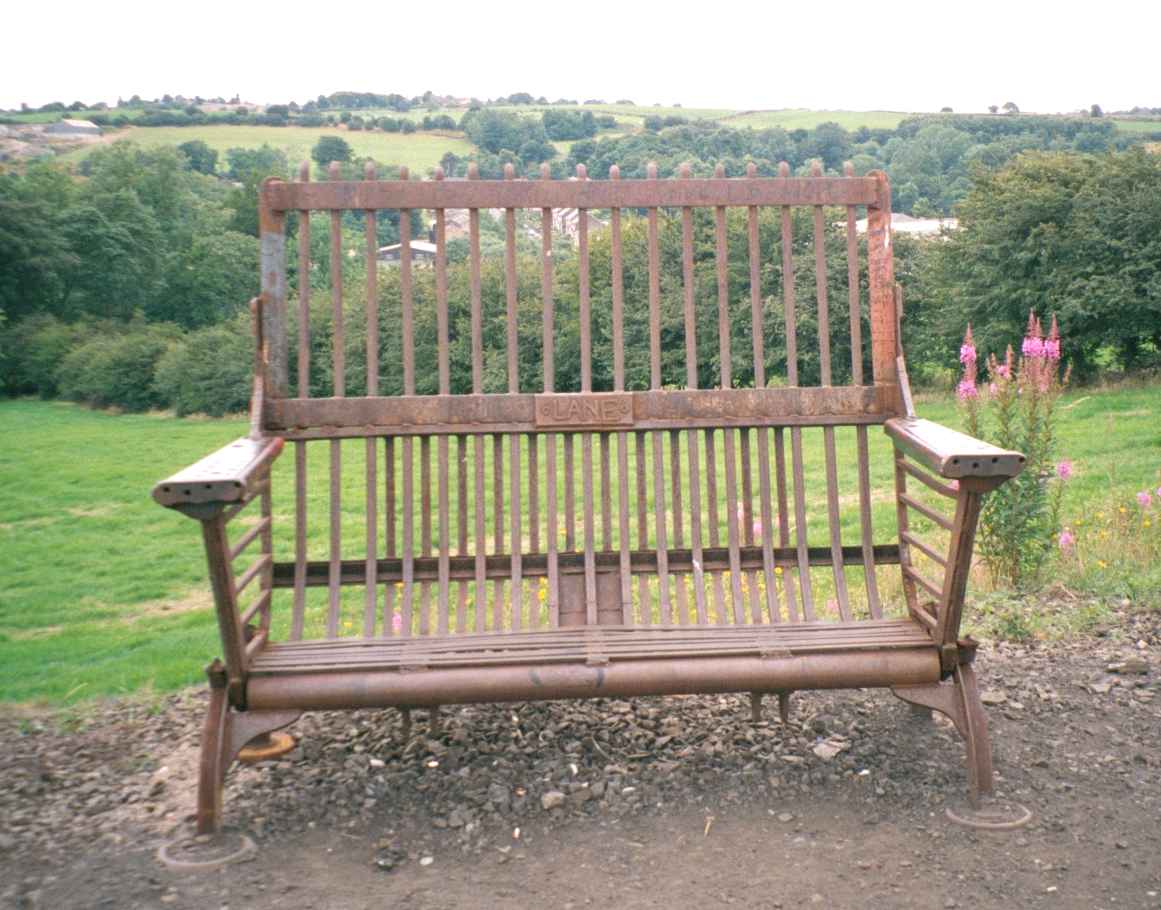 June 17th 2001 - Sponsors turn out for Hospice
Walkers, Joggers and cyclists turned out in their numbers to support the Kirkwood Hospice sponsored event on the Greenway today. Event organisers are predicting a big fundraising total after collecting large numbers of sponsor forms with healthy pledges. One organiser told us "It's a great place to hold an event like this. So many local people can get involved because the Greenway passes so many places". We will definitely do it again next year. If the ringway is built it would be even better, with a potential circular route."
Members of the Heckmondwike District Kirkwood Hospice Support Group (left in both photos) and sponsors pictured near the Waymarker at Headlands Road access point. Two young cyclists join in the fun of the event.
June 10th 2001 - Safe route gathers momentum
Over 30 local people joined Gordon North, the Chair of the Spen Valley Line Forum, to walk the route of the proposed Spen Valley Ringway and sign a petition asking for the old line to be considered as a Safe Route to School and a cycle way linking the Greenway on the opposite side of the valley.
The aim of the walk was to provide an impetus for the route to be included in forthcoming plans as a cycleway, commuter and leisure route and a safe route to five local schools.

The walk was punctuated by by an informative history of the line by Gordon North. He also shared his knowledge of the current ownership of the line and plans by some of the landowners, such as landfilling the Walkley Lane cutting by Mark Pugh which would take 10 years to complete.

The former line once served Gomersal and beyond (hence the reference to the Gomeral Spur) and in Heckmondwike through a magnificent series of bridges.

This initiative would complement the already successfull Greenway and provide safe and sustainable travel for hundreds of Spen residents, young and old alike.

If you wish to sign the petition and give your support to the campaign you can email Gordon at gnorth8023@aol.com